Our intended audience is anyone interested in public health topics and youth prevention in East Texas and beyond. We will share the voices of high school seniors in our Drug Free All Star program and share updates of different prevention topics that affect our region. The Coalition is a 501 (c) (3) non-profit in Lufkin, Tx, serving parts of East Texas, intent on keeping the youth of our community away from drugs, alcohol and tobacco. We were established in 1988 by area superintendents who saw drugs as a problem and wanted a county-wide prevention program.
Episodes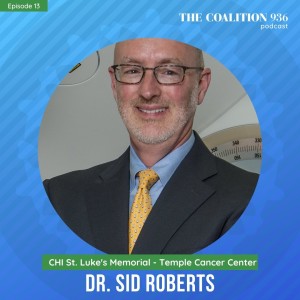 Wednesday Jun 02, 2021
Wednesday Jun 02, 2021
Episode 13 of The Coalition 936 Podcast features Dr. Sid Roberts from CHI St. Luke's Hospital in Lufkin. Dr. Roberts is a radiation oncologist at the Temple Cancer Center at CHI, which is a platinum sponsor The Coalition.
Dr. Roberts and J.P. Heath discuss the mission of CHI, the major health disparities in the Texas Forest Country, and the impact that tobacco has on the cancer patients he sees.
This episode is also sponsored by The Bettye & Murphy George Foundation, a gold sponsor. And Higginbotham Insurance is a bronze sponsor. Thank you to Mike Davis and his team for their support.
Do you or someone you know want to quit smoking? For information on The Coalition's Project Quit click here.
Would your school district like a training for the Catch My Breath E-Cig Curriculum? The Coalition can help! Call us at 936-634-9308. 
The Coalition is a 501 (c) (3) non-profit in Lufkin, Texas, that serves Angelina County and beyond.